Band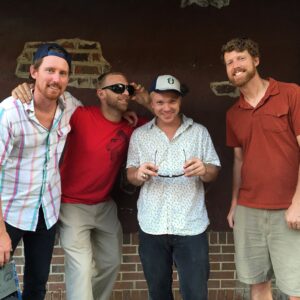 Asheville's Brushfire Stankgrass is now one of the most well established bands in Southern Appalachia, with a tenure of 15 years making original music. Their music showcases an authentic fusion style, in keeping with the tradition of  intriguing, real, and  innovative music that has always emanated from the mountains of North Carolina.  With a dynamic live show, two award-winning albums, and a plethora of live material on the web, Stankgrass blends the traditional with the modern to create a whole lot of foot stompin' fun.
The band is currently at work on it's 3rd studio album, which promises to bring top-tier production and a giant sound to the band's innovative collection of songs.
While the band's live shows are full of tremendous energy, musicianship and fun, their studio work has played very well on radio. Their sophomore release Microclimates debuted at #2 in Relix Magazine's jamband radio charts and was named as one of WNCW's top 100 releases of 2013. The album charted in the top 25 for 6 months. The debut album One For the Salamanders was featured in Relix Magazine's top radio airplay charts in 2011, also climbing as high as #2 and staying in the top 5 for 3 months.
Both of the band's albums are currently available from all major online music stores, and there is a large catalog of live shows posted on archive.org and soundcloud.  Brushfire Stankgrass invites you to smell their sounds.
"Brushfire Stankgrass is capable of that rare magic"
-Jeremy Sanchez, Homegrown Music Network