Microclimates Album Review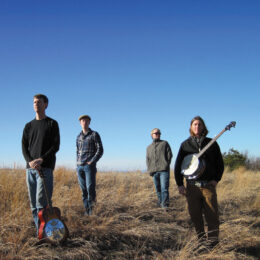 Kind words from the good folks at Homegrown Music Network. Thanks Jeremy! Microclimates is currently #2 on the Homegrown Radio Chart.
You can download and stream Microclimates here.
http://www.homegrownmusic.net/product-reviews/brushfire-stankgrass-microclimates-cd
Microclimates, by Brushfire Stankgrass, immediately triggered thoughts of something by Jazz Mandolin Project as the album cranked up, but it quickly jutted into something equally as marvelous during bluegrass, jazz, rock and roll, and otherwise surreal tangents that the album visits.
Over Micah Thomas's exploratory percussive elements, Brushfire Stankgrass is a string-heavy band, skilled at the banjo, guitar, violin, mandolin, and bass. Add the buttery vocals and introspective lyrics, and this is a complete package.
"Lucid Dream" is one of those tracks that I had to play a few times through before letting the album continue, simply because I like the mood it puts me into. A sleepy nighttime chorus of wood-dwelling bugs mingles with trickling strings, and I find myself transported to joyous memories of camping on distant mountains; that makes me smile. When a song can warp my perspective from the desk where I'm typing to somewhere much more freeing, the price of admission is worthwhile. These lyrics from "Lucid Dream" summarize the intoxicating experience that a few songs possess, "Have you ever had a dream that comes true in the future, but you can't be sure for certain? And you try to remember which came first, and you can lose your mind. And you can fly around the galaxies. Who says you're not awake? Lucidity, lucidity, dreams built of electricity, flying in this lucid dream, it feels so real it just might be…"
"Down Time" is another expansive track (full of feel good trumpet and flugel horn), "California Knows How to Party" seems destined for long, jammy festival sets, and "Satisfied" injects gritty, soulful lyrical elements over raunchy guitar licks and slick piano trickles; I offer these for a taste of the diversity this band slathers generously. Diversity is the key to a long life in the music game, and Brushfire Stankgrass has plenty to spare.
Microclimates is truly an exciting experience for the senses. It's a rare excitement that I stumble upon during the review of a new album, but Brushfire Stankgrass is capable of that rare magic. Some songs are simply fun and energetic, but they all contain a spark of genius that many bands never discover. I smell smoke, and I'm not running from this fire…
– Jeremy Sanchez