Phuncle Stankoween + Additional Fall Dates
Stankoween is always one of our favorite shows of the year, and this year we are teaming with Phuncle Sam at Pisgah Brewing to bring you one of our best lineups yet, sure to be packed with musical surprises and sit-ins.  This year we're going to be stretching into the spookiest corners of our jams, and paying tribute to the horror glory days of the 80's, mashed up with an old southern spiritual theme.  Come check it out. Doors 7pm, BFSG hits at 8.
Other than a van malfunction that caused us to miss our Richmond, VA show with Trongone Band, we enjoyed a couple really good runs through Virginia and West Virginia recently.  Ben's birthday show at The Purple Fiddle was in front of a near capacity room.  The fiddle is quite the destination venue, if you're ever looking to travel to West Virginia!  Another tour highlight was teaming with Les Racquet at Clementine Cafe in Harrisonburg, VA.  We will be sure to team with these bands and venues again in the future.
There are a handful of dates left on our busy fall tour, with upcoming dates at Awendaw Green, Surf Bar in Folly Beach, and Surrey Tavern in Augusta…. hope to catch you and your friends at a show soon!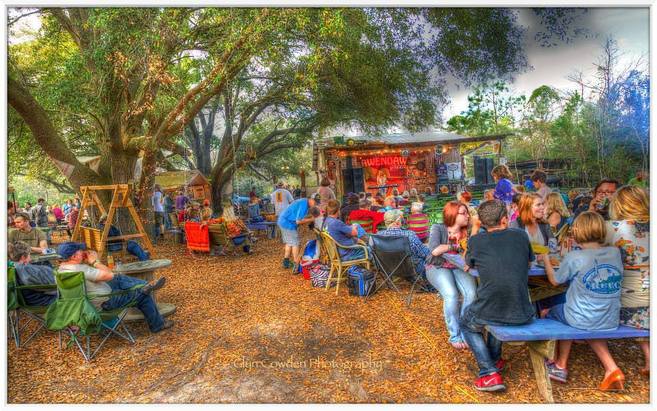 Awendaw Green Barn Jam – Awendaw, SC           Photo Glyn Cowden